Discover more from Acorn Off-Grid
Off-Grid + Permaculture + Decentralization + Local Energy Regenerative Ag + Work from Home + Circular Economy + Sustainability + Homeschooling
Over 12,000 subscribers
How we Turn Food Waste into Free Cooking Fuel and Garden Fertilizer
BioGas Digesters allow us to turn water, manure, and food waste into free methane cooking fuel and liquid fertilizer!
Food waste + cow manure (one-time) + water = cooking fuel + liquid fertilizer 🌱
Within our journey towards local, sustainable and more independent living, finding tools that can help us be less dependent on external resources is vital. One such device that has proven to be a game-changer in off-grid living is the methane digester. For us specifically, the HomeBiogas system. We no longer purchase tanks for propane for grilling / cooking. In this update, we will delve into why methane digesters are a powerful tool for off-grid living, their key benefits, and how they fits seamlessly into both our 2 Acre Homestead and the 1/4 Acre Acorn Land Lab. These digesters can be purchased ready made, or can can be built DIY with a few common items!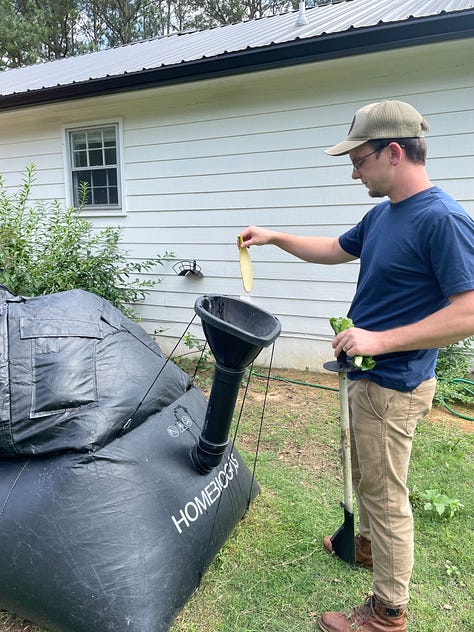 Produces Up to 2 Hours of Cooking Gas Daily 🔥
One of the most compelling features of a methane digester is its ability to produce up to 2 hours of clean-burning cooking gas (methane) every day. Imagine cooking your meals without having to worry about propane tanks or chopping wood! This is an invaluable benefit, especially for those who live in remote areas where access to traditional fuel sources is limited. An important note, methane digesters need an average temperature of 68F to operate properly. We placed a greenhouse around our methane digesters to keep them functioning in winter. Cold climates have a more challenging time operating methane digesters year round.
Acorn Land Labs is a reader-supported publication. To receive new posts and support my work, consider becoming a free or paid subscriber.
A Solution for Food Waste 🥗
The biogas systems not only provide a sustainable source of energy, but they also address another pressing environmental issue: food waste. Our HomeBiogas unit can manage up to 1.5 gallons of organic waste daily, including moldy or rotten food waste. We used to just compost old food waste like this, now we can capture energy from it. This feature turns an often-disregarded waste stream into a valuable resource.
Liquid Fertilizer Production 💧
The benefits don't stop at methane fuel generation. Our HomeBiogas system creates tens of liters of rich bio-fertilizer every month. Between our composting, JADAM fertilizer tanks, and our methane digester fertilizer we do not purchase any fertilizers. This is a win-win situation for both your wallet and the environment.
How We Use HomeBiogas on Our Homestead and Land Lab 👩‍🌾
On our 2 Acre Homestead and 1/4 Acre Acorn Land Lab, the HomeBiogas systems have proven to be invaluable. We are not only able to cook our meals sustainably but also make use of all our organic waste. The liquid fertilizer generated is used to enrich the soil in our gardens, contributing to healthy plant growth and higher crop yields. One of my favorite moments is collecting eggs from the coop, veggies from the garden, and then cooking breakfast with my wife and two boys on the back deck. The eggs, veggies, and cooking energy were all produced in our backyard (plus more fertilizer to keep producing food).
Toilet Connection: An Above-Ground Septic Tank 🚽
An often-overlooked feature of HomeBiogas is its ability to be connected to a toilet, functioning like an above-ground septic tank. This feature adds another layer of sustainability and self-sufficiency, as it provides an eco-friendly waste management solution that is both practical and sanitary. For people who are not quite ready to use a composting toilet, the HomeBioGas toilet keeps things familiar and helps produce energy. These toilets use a fraction of the water of a traditional toilet. A few notes: you won't use the fertilizer directly on produce anymore for safety reasons, you'd run the effluent line into a woodchip bed (similar to a septic leach field). You can plant fruit trees, berry bushes or a composting crop like comfrey to use the nutrients. This setup is less than 1/15 the cost of a tradition septic system / regular toilet setup.
Reduce Landfill Waste and Save Money 🗑
According to HomeBiogas, using their system can save 6 tons of CO2 emissions a year. Food waste that you throw out increases the amount of fuel garbage trucks use, and the food waste converts into methane gas that escapes into the atmosphere in a landfill. Methane gas is 80X more potent warming the atmosphere than Co2. Why wouldn't we capture a free resource to use? Once it's burned the methane is mostly Co2.
Technical Specifications for our biogas system 🛠
System dimensions: 210x115x130 cm / 83x45x49 in

Cooking fuel: up to 2 hours daily for our single burner

Bigger systems can generate much more fuel

Liquid fertilizer: tens of liters monthly for your garden

Gas Tank volume: 700 liters / 185gal

Digester Tank volume: 1200 liters / 317 gal

Maximum daily quantity of kitchen waste: Up to 6 liters / 1.5 gal

Maximum daily quantity of animal manure: 45 liters / 12 gal of slurry:
Wrapping things up 🏞
Living off-grid requires tools and solutions that align with sustainable, self-sufficient practices. Methane digesters check all the boxes, offering clean fuel, waste management, and fertilizer production. Its versatility makes it a perfect fit for both our 2 Acre Homestead and 1/4 Acre Acorn Land Lab.
So, if you're aiming for a lifestyle that is both eco-conscious and self-sufficient, a methane biogas digester should be on your list of keystone systems. Don't forget you can build your own methane digester very affordably!
HomeBioGas is an off-grid partner of Acorn Land Labs. We only promote sustainable products we LOVE and would recommend to anyone in a heartbeat. Our team provides affiliate links that help support our work, and often give you a discount!
Acorn Land Labs is a reader-supported publication. To receive new posts and support my work, consider becoming a free or paid subscriber.